1/25/11
The Great Tissue Box Dillema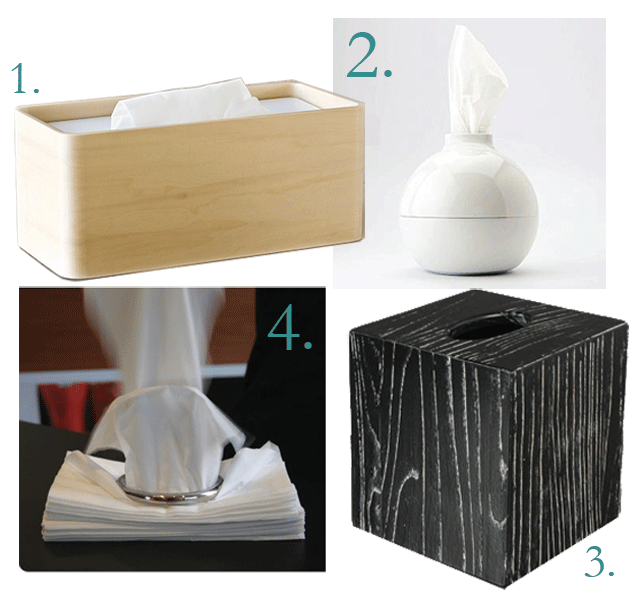 Is anyone else completely annoyed at the tissue box industry for not jumping on board with modern & attractive packaging?
I mean, they're getting better, but a bright blue and lime green chevron pattern (though I love chevron) still sticks out in my home like a sore thumb! And, I made the mistake of buying those new pretty packaged tissues and since I've been sick they've left me looking like I could lead Santa's sleigh. I've decided I just need to break down and buy a tissue box cover to house my very favorite tissues. I've got four new tissue boxes in the running above! But, until the tissue industry realizes the subtlety of modern design, I will continue to be thoroughly annoyed!
1. Grass Roots Modern | 2. Molla Space Paper Pot | 3. Pfeifer Studio Ebony Tissue Box | 4. Vessel Toro Tissue Ring
And, don't mind me, I'm just grumpy because I'm sick (and because my house is full of ugly half-empty tissue boxes)! I'll be back to my glowing & chipper self in no time…
What do you think about all of this? How do you deal with ugly tissue boxes?
Credits