2/7/11
A Valentines Day GIVEAWAY!!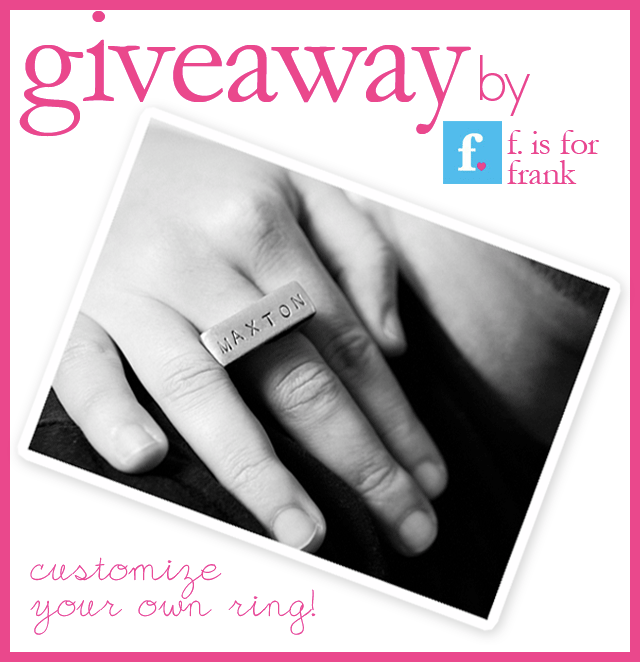 I've gotten so many comments on the blog about my customized Maxton ring by F. Is For Frank, that I wanted to give you all a little treat for Valentines Day! This custom ring is amazing and I constantly get compliments on it, so F. Is For Frank & I wanted to share the love!
It's an $85 value & you can customize it with up to 10 letters & numbers to make a statement. It can be the love of your life, a date, or a statement that you're 'single'. Get as creative as you'd like!
Here's how the giveaway works…
You get one entry for each of the following & you must leave a separate comment for each entry:
1. To enter you must subscribe to Hello, Splendor, either by 'Google Friend Connect' or by 'subscribing by email'. (these can be found under 'Follow Along' just to the left of this post) + Leave a comment stating how you follow.
2. What would your ring say if you won? + Leave a comment with what your ring would say. Remember: 10 characters or less.
3. Tweet about this giveaway & mention @hellosplendor & @fisforfrank. + Leave a comment and let us know your handle.
4. Like F. is for Frank on + Leave a comment here letting us know.
5. Like Hello, Splendor on + Leave a comment here letting us know.
Good Luck!!
The winner will be chosen at random & announced on Valentines Day!!

Credits