11/14/11
monday memento | no. 002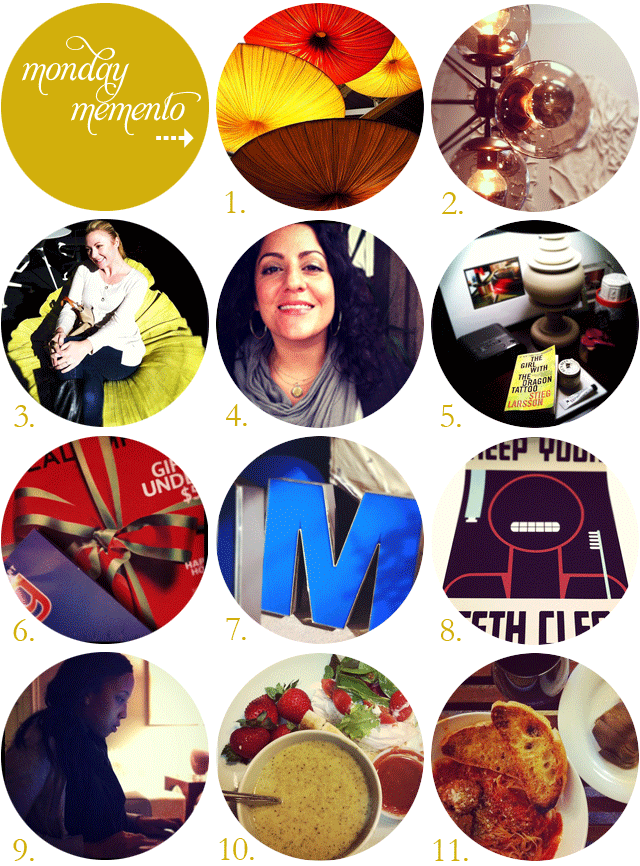 1. Carolina spotted this fab light installation at a local Dallas showroom, .
2. Beth was taken to this equally handsome light fixture in the same !
3. Beth looks like a giant Cabbage Patch Kid in this Bloom Chair.
4. Carolina in her Bliss at for lunch.
5. Carolina is still working through in her free time. Worth reading?? Beth wants to know.
6. Beth has been tearing loads of great pages from the December issues of & .
7. We found this signage at just $39 a pop at . This 'M' will be perfect in Maxton's room.
8. Speaking of Maxton, Beth ordered this poster for Max's bathroom from her favorite site .
9. Our favorite friend and web consultant, , made a late night stop for a glass of wine & tech talk.
10. Carolina swears up and down that her broccoli cheese soup is healthy. Who wants the recipe?
11. 's 'meatballs & gravy' are always a big hit at the office in the fall & winter. Everyone gets doggie bags!
All photos by & using !

Credits