9/25/10
Blog Crawl… Week 1 Recap!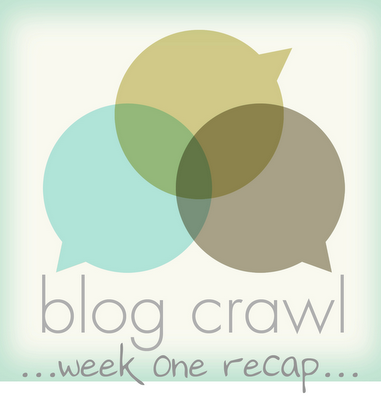 This first week in the Blog Crawl has been amazing! Everyone posted such incredible stories and I've learned so much about some of my favorite bloggers. This 'My Life Is An Open Book' theme has been such a great way to get to know everyone. I must thank Aspiring Kennedy for helping with the idea! Check out everyone's posts from this week…
…Day One…
Hello, Splendor: I shared my own story as told by Twilight. I think that my 'wolfpack' had to be my favorite part!
Studio Surface: The cliffhanger left me wondering… Is she or isn't she??
Fabulous K: Can you believe Ms Fabulous has not been to NYC? She's sharing her excitement about her first trip to the city.
…Day Two…
Bryn Alexandra Interiors: Loved Bryn's story and how she found love and followed her passion, and especially loved the story of Charlotte the dog!! What a sweet pup!?
Isabella & Max Rooms: Janell tells her tale of her adventure to The Nate Show… and leaves us with a cliffhanger!
Wild & Precious: I loved Blair's take on the challenge and how she shared some of her hopes and dreams through a fictional story.
…Day Three…
Cashmere Cowboy: Loved this boy-bloggers no-nonsense story of life, love, and how he came to blogging. Isn't he gorgeous?
Something Legit: Laura's complete honesty and openness was a fresh change! It's so refreshing to see someone sharing the uncertainty they have in life…
Aspiring Kennedy: Ok, this was hysterical! My favorite part? Comparing the non-bloggers to 'muggles'. Loved it!!
…Day Four…
The Decorista: Isn't she the cutest? I absolutely adored the sentimental story behind how The Decorista came to be!
6th Street Design School: Such a great story on finding a balance between family and career… And, what a beautiful family!?
Emily A. Clark Interiors: Love hearing stories of people escaping things that didn't bring satisfaction and pursuing something that makes them truly happy! Always brings a little hope.
…Day Five…
AphroChic: A 'healthy' obsession with throw pillows turned into a career… And, a bi-costal move!? I just love Jeanine!
Simply Grove: A gorgeous family and a chain of events that leads to a successful business relationship… I always love hearing how my favorite bloggers have come to be where they aer.
The Social Thread: I can't wait to hear where this story goes… Maybe Max will have a new friend soon??
Stay tuned for more exciting stories next week… We've got some great ones lined up!
Aren't you just loving hearing more about your favorite bloggers?
Credits