10/4/10
Blog Crawl… Week 2 Recap!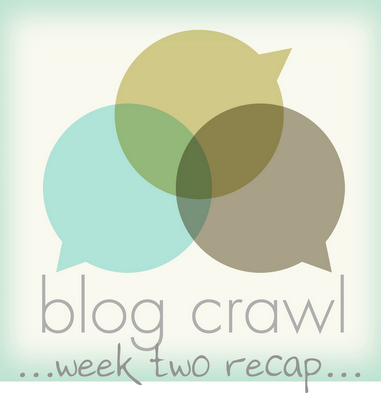 …Day 6…
Bright.Bazaar: Will shared his charming and endearing story about how he came to love blogging and shelter mags. I just love Will!!
Sandy a la Mode: Sandy opens up about love and life… I think her 'children' are especially cute!
Beach Bungalow 8: I absolutely enjoyed peeking into Megan's life! She's one of my faves and I adored getting to see her beautiful family.
…Day 7…
One Sydney Road: Star Wars themed story… enough said!
Oh, My Darling: Loved her fantasy cast of characters & writers. Cute take on the task!!
Amanda Lee Dot Org: Enjoyed this honest story about an unpredictable character trying to find balance.
…Day 8…
Rambles With Reese: Reese tells her story of how a life-long traveller and adventurer finds a soulmate who shares her zest for life!
The Inglenook Decor: It amazing reading how people happen upon living their dreams! Maureen's story is great!!
Kenziepoo: I just loved Rachelle's story about family and blogging… They're beautiful aren't they!?
…Day 9…
A Diary of Lovely: This story of a london-ite and fashionista is a super cute one! Loved the nod to Gossip Girl!
Knight Moves: A great tale of a traveller, serial decorator, wife, and doggy mama. Isn't her home amazing?!
Happenstance: Such a gorgeous family and beautiful story! I especially adore that love was found in a skate park!
…Day 10…
Chic Modern Vintage: Tonia left us hanging… sounds like she's about to shake things up!
The Alternative Wife: Such an amazing tale of true love and following your career passions. I totally admire Dawn and the incredible life she leads in NYC.
So About What I Said: Melissa is a little spitfire looking for love. I always enjoy reading about the challenges she's up against and how she overcomes them.
Another amazing week… Keep up with this week's schedule, too! There are some great ones!!
Credits